Description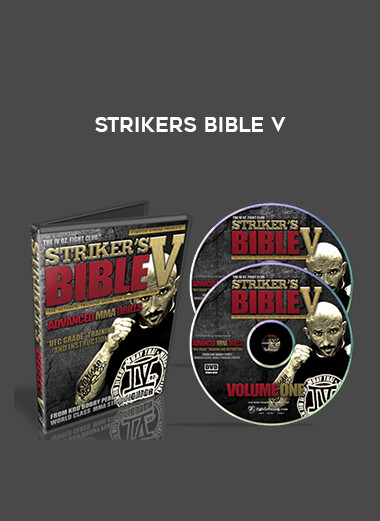 Strikers Bible V
Salepage : Strikers Bible V
Archive : Strikers Bible V
Course Download Size : 749 MB
THE STRIKER'S BIBLE V ADVANCED MMA STRIKING PROGRAM
The Striker's Bible DVD series is the work of Kru Robert Perez, a well-respected striking coach of many MMA champions. Here in Volume V of this series, Robert shares with you more of his favorite training methods for building high level strikers. Outside of training fighters, Kru Perez is also a columnist for Tapout Magazine, and has been published in MMA Worldwide. Known as a great teacher and highly knowledgeable, Kru Perez aspires to keep growing as a coach,and share his knowledge with all that wish to learn.
Everyone knows that to be successful in anything, you need to have a good coach.
As far as striking goes, here we have done a lot of the work for you.
Perez has taken guys from COMPLETE BEGINNER to a UFC LEVEL fighter. And he's done it more than once!
There aren't too many striking coaches you can say that about.
So Why Reinvent The Wheel?
You could go out and spend THOUSANDS of hours on the pads, read TONS of pages from books, or watch HOURS of other training videos…
Or just get this video series that will give you a head start on developing world class striking skills in the quickest amount of time possible.
No fluff and NO B.S. Just get the raw information and simple step-by-step explanations you need to impose your will on others at the gym. Need Proof? Watch These Sample Clips…
Here Are Just A FEW Things You Will Learn In Striker's Bible V:
THE ART OF SLIPPING: The easiest way to deal with punches and counter.
THE "AGGRESSIVE BOB AND WEAVE": Use the bob and weave to counter.
HOW TO ANSWER WITH SAME PUNCH: Great drill for countering a puncher.
HOW TO GET BACK ON YOUR FEET: This is a crucial skill for both MMA and the street.
HOW TO CAPITALIZE ON A FAILED SHOT ATTEMPT: Make him pay for trying to take you down
HOW TO USE "DIRTY BOXING": How and when to use illegal boxing moves like the "hockey punch"
HOW TO WIN FIGHTS WITH "THE SCOOP": The scoop is a great way to deal with grapplers.
The Striker's Bible series is arguably the most informative DVD set there is on building high level strikers. Jam packed with information, Kru Perez doesn't hold anything back in giving you his favorite training methods.
WHEN TO USE THE "BOW TIE": You will love to know how to put an opponent in this helpless position
TRAINING THE STRIKER'S SPRAWL: This isn't for wrestlers, but designed to get you back in striking mode!
HOW TO DROP THE KICKER: This is a great move for taking out a kicking attacker.
THE INs AND OUTs OF INSIDE FIGHTING: Everyone needs to know how to fight inside. This will teach you how.
WHY YOU NEED TO "OWN" THE CENTER: Controlling the fighting area is critical and this section will give you some important tips on that.
SILENT DRILLS WITH KICKS: This is a great way to really improve your kicking skill set
Plus A Whole Lot More. These DVDs Are Packed Full Of Helpful Training Information!
Robert Perez has trained fighters that have appeared in such promotions as Dream, Bellator, Strikeforce, and The UFC.
Many of these fighters, Bob has brought up "from the beginning" and taken them all the way through up to these top promotional events.
In this DVD set, Bob has taken what he calls his personal training "Bible" that he has compiled over the years, and committed it to video.
You are going to get his favorite drills, techniques, and training methods that he uses to train fighters to reach high level performance. He is now offering all of this to you in this unique video
Strikers Bible V