Description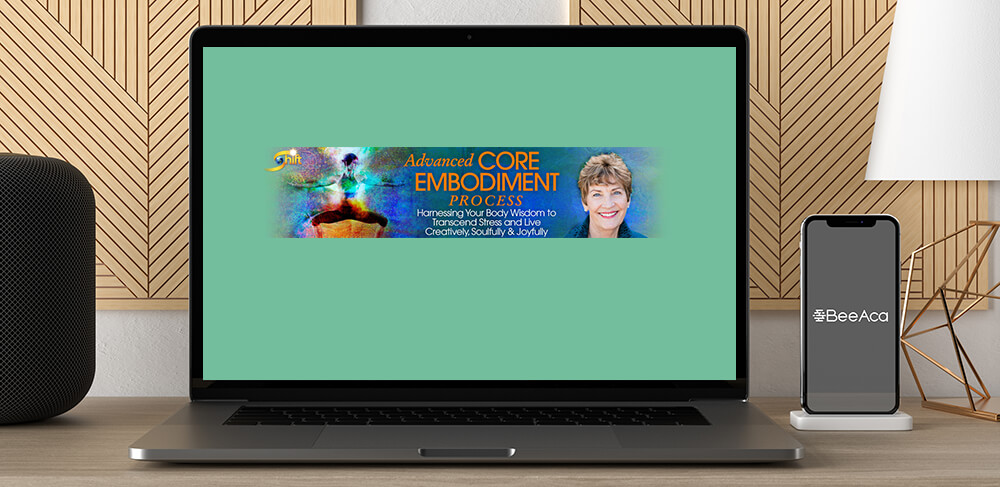 Suzanne Scurlock – Advanced Core Embodiment Process
Salepage : Suzanne Scurlock – Advanced Core Embodiment Process
Archive : Suzanne Scurlock – Advanced Core Embodiment Process
Course Download Size :
New 3-month Live Video Mentorship Program Starts
Thursday, December 13, 2018
What You'll Discover in These 3 Months
Course sessions are on Thursdays at Noon Pacific.
In this 3-month transformational mentorship program, Suzanne will guide you through the fundamental spiritual skills and competencies you'll need to successfully tune into and use the valuable knowledge your body innately holds to release your obstacles to thriving — physically, emotionally, and spiritually.
Each inner exploration and training session will build harmoniously upon the previous ones so you'll develop a complete holistic understanding of the practices, tools, and principles you'll need to sustain a strong, deep, intimate relationship with your own unique physical self for a lifetime of greater awareness and vitality.
Module 1: Embodying Your Heart's Wisdom (2 Sessions) (December 13 & 20)
The gift of the heart is that it connects you to your deepest inspirations — what you came here to do at a soul level. The paradox is that you may find yourself doing things — pursuing careers, getting into relationships, conducting your daily life — based on pleasing others. For many people, this survival pattern arose in childhood.
You may tell yourself that if you can please everyone around you, they'll love and cherish you. Yet, you're not pleasing the most important person… and acting from that deep soul quality of who you are. If you feel a constant background ache or anxiety, making you more vulnerable to addictions and generally dulling your existence, it's time to get in touch with the wisdom of your heart.
When we truly embody at a heart level, this wisdom comes shining through. The quiet voice of the soul gets heard and we begin to change our life in ways that truly feed us, energize us, and thus ultimately lead to a happier life for everyone who loves us and is touched by our gifts and talents.
Most teachings talk about the heart as the locus of love and compassion — and certainly we can find these qualities there. However, the true gift of the heart is in how it manifests the inspiration of the soul. Love and compassion live in and catalyze health and wellbeing in every cell in the body, not just the heart.
In this module, which will span two sessions, you will work with your heart — experientially and through journaling — at deeper and deeper levels until you've released whatever has been blocking you from manifesting your soul's purpose.
In this module, you'll discover:
What you are personally inspired to create in your life right now from that soul level of who you are
How to nurture a template for your inspiration, which may change over time as it develops
What signals to listen to for staying present in your heart as you meet challenges
Refinements of your healthy boundaries for living from your soul's inspirations
How to rest back into the deep well of the heart for self-love and nurturing
How to honor the wellspring of the well of the deep heart
Practice habits that feed your deepest inspirations so you consistently follow through on them
Module 2: Embodying Your Gut Wisdom (2 Sessions) (December 27 & January 3)
An informed, embodied gut is a finely tuned navigational tool. It helps you become much clearer about what is yours to do, how you can take "right action," and what you can delegate.
This instinctual wisdom can steer you towards what's right for you, and away from what doesn't serve you. When you second-guess your gut, or are locked out of it due to trauma, stress, or health challenges, it's like being in a boat without a rudder, bobbing along with no capacity to direct where you're going.
In these two sessions, you'll discover how to truly listen to your gut. You'll learn how to read all the signals it gives you — when to make a decision and when to put it off, how to discern between old fears and current challenges, and what to do about them.
Healthy boundaries are a key part of the Core Embodiment Process, especially in the gut and belly area. You'll fully explore what to look for — and how to recognize the signals when your boundaries are being violated. That's a vital skill for thriving in today's world.
In this module, you'll discover:
How to recognize your unique signals when your gut is "talking" to you
How the intelligence of the gut supports all the systems of the body — healthy brain function, a resilient immune system, and a relaxed nervous system
How to use your gut instincts in wise decision making
When to hold off on making a decision — in a way that is not procrastinating!
How to stop second-guessing your gut instincts
Auspicious partnerships between your gut wisdom and the rest of the wisdom areas of the body
Module 3: Meet Your Demons & Do It Anyway
(1 Pre-recorded Teaching With Live Q&A With Advanced Practitioners) (January 17)
While Suzanne is traveling in January, you'll receive one pre-recorded class session with her. This session will give you an opportunity to dive more deeply into your own process — shifting, exploring what connects with you at the soul level, then discovering how to work with it when resistance shows up. Suzanne advises: pay attention to nature and what inspires you, and don't beat yourself up for being imperfect.
The Q&A will be led by Healing From the Core (HFC) advanced practitioners. These practitioners of Suzanne's work will be available LIVE to answer your emerging questions about the course material. You'll also have an opportunity to join a small group discussion following the Q&A. This session will enhance Suzanne's preceding course sessions, contributing to deeper integration of the course material.
Module 4: Embodying the Wisdom of Your Pelvis (1 Session) (January 31)
The Core Embodiment Process that's focused on the pelvis gives you access to your power. You'll get a clear sense of whether you're energized enough to jump into a project, or whether you should slow down, regroup, and look at the situation again in the future when you have more energy.
The pelvis is the metaphoric "engine" of the body. It includes the reproductive system, our creative "womb" area, and the actual anatomical contents of the pelvic bowl. If there are physical or emotional traumas held in this area, it leaves us handicapped — with limited access to the energy that helps us thrive in the world. Our only choice is to run on will power alone, which is a recipe for burnout and compassion fatigue.
This wisdom center is the proverbial "black sheep" in our culture — demonized by some and holding major shadow material for most of us. We'll uncover our personal taboos, triggers, and other body myths that may originate here and constantly drain us if not pulled out of the shadows and transformed.
The pelvis is also foundational to the health of our whole system. If we ignore it, we'll pay a high price. Yet, if we can heal, embrace, and embody this wisdom area, which is essentially the deep energy well of who we are, life takes on an ease and flow that allows us to thrive and our soul to shine.
In this module, you'll discover:
What hidden body myths may be keeping you from fully embodying in your pelvis
How family, cultural, and religious messages can lock us out of this wisdom area
How physical and emotional trauma can cause energy challenges in this area
The energy anatomy of the pelvis and how you can facilitate its opening and returning to optimal functioning
Explorations to connect this wisdom area with the rest of the navigational system of your body for maximal health and wellbeing
Module 5: Embodying the Wisdom of Your Legs & Feet (1 Session) (February 7)
The legs and feet get us moving, activating what the other wisdom areas of the body want to make manifest, and bringing our soul's inspirations into form. This vital component, which takes us forward or gives us the power to run away, is only partially understood by most.
There is the activation side to this wisdom area, and then there is its deeper function — that of assisting us in "digesting" life in all of its complexity. It helps us make simple what is confusing at times. When there are many options and no clear answer, this wisdom center helps us activate the conversation between the right and left hemispheres of the brain. It also helps integrate the messages from the other five wisdom centers.
Oftentimes we procrastinate or put off making decisions when we most need to move forward in our lives. Or, we make decisions based solely on what will make others happy, but not on what our own inner wisdom is whispering to us.
When our embodiment is present here, it frees up our inspiration, guides our steps, and allows us to make positive decisions and grow.
In this module, you'll discover:
Deeper listening skills for this area and how its wisdom emerges
How to partner this wisdom area with all the others for maximum effect
Practices that give you the ability to walk with, be with, and metabolize what is confusing and perhaps challenging in your life, so you can stay creative, energized, and move through it much more quickly
Habits that bring this wisdom area on board for regular "digestion" time
Module 6: Embodying the Wisdom of Your Bones (1 Session) (February 21)
The gift of your bones is the sense of steadiness and clarity they bring. That's not surprising because the bones are the sturdiest form of connective tissue in the body. They are the scaffolding that everything else rests upon or is protected within. Yet for most of us that gift is hidden away and not recognized for their unique role in the whole human navigational system.
In this module, we'll experientially explore the strength and steadying effects to be found here when we're in turbulent situations or in times of emotional overwhelm. Your bones offer an inner sanctum to rest in so that clarity can emerge when you need it most.
Like trees, our bones stand strong in the winds of change. They help us see more clearly what is best for us, particularly what is ours to do at a soul level. Honoring and respecting the inner stillness this wisdom area offers is vital if we wish to hear its deep informing.
In this module, you'll discover:
Experiential explorations that deepen your ability to hear the wisdom in your bones
Advanced practices that combine breath and the Core Embodiment Process in the bones for maximum clarity
How this conscious awareness offers information that no other wisdom areas can offer in quite the same way
Module 7: Embodying the Wisdom of Your Integrated Brain (2 Sessions) (February 28 & March 14)
This wisdom area has been previously and falsely elevated to the position of "Boss/King/Queen" when it is fundamentally meant to be a receiving station and repository for the input from all the other wisdom areas of the body.
When a person has an integrated brain, there's a flow of information pouring in constantly from the gut, the heart, the pelvis, the bones, the legs and feet, and all our other cells… igniting the intelligence of our whole system. When this occurs, the brain can create wise strategies to navigate life.
When we understand that a balanced, integrated brain is a vital part of our whole navigational team, it's easier to trust what we know, what we perceive, and how we can thrive — especially in challenging times.
In these two sessions, we'll explore how the prefrontal cortex mediates and calms trauma responses when supported by the rest of the body. And how it helps us step back into the driver's seat of our conscious awareness when challenging traumatic memories arise or when current events trigger old unprocessed trauma.
When the integrated brain is partnered with other key wisdom areas, the fight-flight-freeze response to trauma or challenge can be gently held in a loving, healing way that allows for integration and transformation to take place. This allows a deep relaxation to return to a system often hungry for a sense of peace and joy.
When your integrated brain is fully on board, your creativity functions optimally and your soul's purpose can manifest. The mapmaker and strategic planning function of this area is no longer trying to control things from a top-down, disconnected perspective, but is now in service to the soul quality of who you are.
The perceptual lens is wide open when this wisdom area is engaged, offering a more expansive view of yourself and the world. By definition, the integrated brain's role is one of helping us integrate it all — from a feeling of safety to a sense of joy, freedom, and wholeness.
In this module, you'll discover:
The anatomy of the brain when it functions optimally
The structures that are overactive in current trauma situations or during traumatic memory recall
How to repair and rewire your nervous system for healing and growth
Advanced protocols for encouraging growth and healing after trauma
How to connect your brain to the wisdom areas elsewhere in the body for maximal balance, joy, creativity, and a deeper sense of pleasure in being alive
How to live from a fully integrated brain, which means deeply connected to the rest of the wisdom areas
Author
Suzanne Scurlock, CMT, CST-D, bestselling author of Reclaiming Your Body: Healing From Trauma and Awakening to Your Body's Wisdom, is one of the world's leading authorities on conscious awareness and its transformational impact on the healing process.
For more than 30 years, she has empowered people with practical tools that enable them to experience joy in each moment without burning out. These skills help improve every aspect of their lives, from their health and wellbeing to their relationships, their careers, their creativity, and even the growth of their businesses.
Suzanne Scurlock – Advanced Core Embodiment Process