Description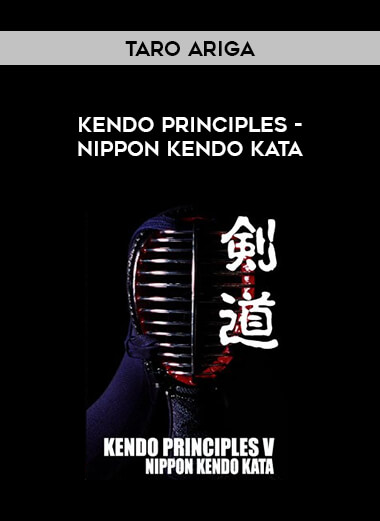 Taro Ariga – Kendo Principles – Nippon Kendo Kata
Salepage : Taro Ariga – Kendo Principles – Nippon Kendo Kata
Archive : Taro Ariga – Kendo Principles – Nippon Kendo Kata
Course Download Size :
Kendo Principles V explains the Nippon Kendo Kata in details. It is a perfect source to learn the correct Kata for daily practices or last minute preparation for Dan promotion examinations. This DVD illustrates correct examples, and incorrect moves which are common to new students.
This DVD can also be a useful source for self training guide for Kenshis who want to learn the proper Nippon Kendo Kata in depth. Dojo Instructors can also take full use of this DVD as an additional instructional material for their students. Kendo Principles V can be played in English and Korean, for easy understanding and the camera is taken from various angles.
Many slow motion shots are taken to illustrate correct and incorrect examples from different angles. In the first section of the presentation, the DVD demonstrates the entire ten Katas (seven with the Tachi and three with Kodachi). Then in the second section, it goes through each Kata in details, showing the proper way, and pointing out the common mistakes.
This DVD explains the following in details:
– Nippon Kendo Kata fundamentals
– Benefits of learning the Kendo Kata – Riai & Giho (Meaning and Techniques)
– Kamae (Basic Position) – Reiho (Courtesies)
– Enter the Dojo
– Seven Tachi movements
– Three Kodachi movements
– Exit the Dojo
"I started Kendo in Brazil in 1975, and since then I have visited many different Dojos all over the world. I was very fortunate to have been taught by many different Senseis, who were all great instructors. They taught me not only Kendo techniques, but also the fundamentals of human character. I would like to thank all my Senseis and fellow Kenshis, who had the patience to practice Kendo with me. Many people asked me if there is a good instructional Kendo DVD in languages other than Japanese, and I was not successful finding one. This is the reason I decided to develop one myself, with the hope that it will help many people interested in Kendo outside of Japan. This DVD is based on what I have learned and developed during the 32 years of my Kendo career. My Kendo knowledge is not any close to perfect, however I have tried my best to introduce everything I know, and what I have been taught. I am open to any comments or suggestions, in order to improve the quality in the next editions of this DVD series." Taro Ariga (Kendo Renshi 6th Dan)
KENDO KATA DEMONSTRATION
UCHIDACHI TARO ARIGA
SHIDACHI SANDY MARUYAMA
EXPLANATION BY TARO ARIGA
EQUIPMENT BY E-BOGU.COM INC.
MUSIC SELECTION BY KOBY SHIMADA
WRITTEN BY TARO ARIGA, SANDY MARUYAMA
DIRECTED BY KOBY SHIMADA
PRODUCED BY KOBY PICTURES
Taro Ariga – Kendo Principles – Nippon Kendo Kata