Description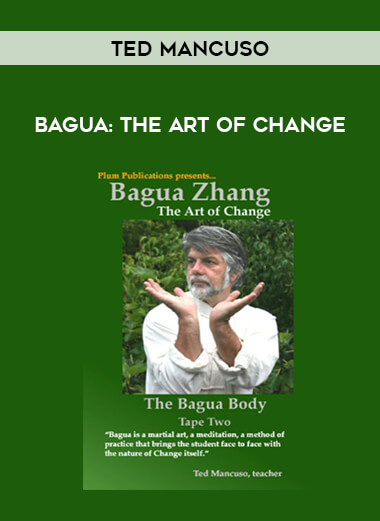 Ted Mancuso – Bagua: The Art of Change
Salepage : Ted Mancuso – Bagua: The Art of Change
Archive : Ted Mancuso – Bagua: The Art of Change
Course Download Size : 4.386 GB
Bagua: The Art of Change 1 & 2 By Ted Mancuso, from Plum Publications Bagua is a profound and fascinating study based on ancient principles of Oriental philosophy.
Like T'ai Chi it combines self defense training with subtle exercises from Traditional Chinese Medicine.
The Art of Change is an entire course in one video.
This is a complete training guide unlike anything else currently on the market.
It includes reeling silk theory, applications, basics, warm ups, and clear instruction on the Eight Changing Palms.
This is an essential reference for any martial arts library, and it provides the necessary information that will allow even a beginner to start practicing Bagua.
This set offers a course for learning the basics of Ba Gua, T'ai Chi's more advanced sister.
It contains clear, detailed instruction.
It has specific discussions of theory; not just a "walk through" without background.
Ba Gua is fast becoming as popular as T'ai Chi due to its modular method of practice.
Disk #1 gives an overview with a huge amount of information including Chi Kung and Usage.
Some topics covered:
• BaGua Theory: the components of BaGua
• Circle Walking: BaGua's foundation
• Chi Kung: Breath BaGua style
• Basic Hand Changes: and spiral energy
• Self-Defense Applications and Post Work
• Complete 8 Changes: the "Set"
• BaGua Patner Work: Duet practice
Disk #2 concentrates on one of the most neglected aspects of BaGua practice, the development of the BaGua body with special exercises selected to improve BaGua practice of ANY style! Some topics covered: • Single Limb warms ups
• BaGua Wheel exercise
• Many levels of Threading
• The BaGua Ba Shih (8 Chi Kung Stances)
• Self-Defense Practice Methods
• BaGua Spontaneous Applications
• BaGua Chin Na Applications
• Tree Training
• Single Palm San ShouGo slowly.
Learn deeply.
And acquire the suppleness of a baby, the strength of a woodcutter, and the mind of a sage.
Ted Mancuso – Bagua: The Art of Change