Description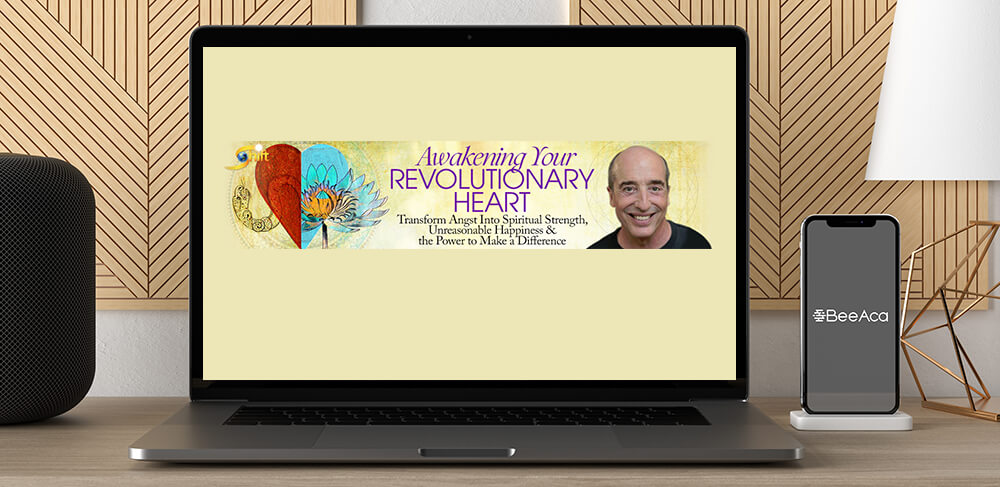 Terry Patten – Awakening Your Revolutionary Heart
Salepage : Terry Patten – Awakening Your Revolutionary Heart
Archive : Terry Patten – Awakening Your Revolutionary Heart
Course Download Size :
What You'll Discover in These 7 Modules
In this 7-module transformational journey, Terry will guide you through a series of insights, exercises, challenges and choices that will draw you into a very deep place within yourself where you can open your heart in a radical way that will profoundly affect your whole life.
Each session will build harmoniously upon the next so that you'll develop a complete, holistic understanding of the practices, tools and principles you'll need to sustain your commitment to something larger than yourself that is actively changing your inner life and attracting undreamed-of opportunities and a higher quality of connection with others.
You'll also experience the joy and support of committing to an evolutionary, love-based community, one that will help you metabolize old stories and traumas as well as encourage you in stepping forth as a pioneer of what's possible. Having brothers and sisters on the journey is a profoundly important component of accessing the deeper realities of the heart.
Module 1: Connecting With Our Heart's Intelligence, Strength & Commitment
It's easy to trick the mind, but the heart knows better. In the first session of this 7-module journey, we'll set a sacred container and choose to come together in a sacred community of practice, dedicated to living from our heart's deepest wisdom. Through a series of experiential processes and epiphanies, we'll support each other in reawakening our authentic gratitude, which naturally quiets the anxious mind and brings us back to empathy and confidence. We'll become more fully present and open up new psychic space, inviting forward the wisdom and joy of our integral heart, which unites the highest intelligence of our whole being. We'll invite the heart to raise its voice and to empower our whole way of being in the world.
In this module, you'll:
Access the wisdom of your heart through practices of the heart
Discover what your heart most cares about and appreciates
Drop into your gratitude — for life, the world, your freedoms, the people and animals you love, and those you will love
Connect with the regenerative power of care and appreciation — and learn to empower yourself at the heart
Discover and explore the amazing practice of trans-rational prayer
Begin to live based on recognizing that love is the only engine of survival
Module 2: Facing Our Denial, Allowing Our Pain & Grief & Finding Our Truth
In this session we'll face what we have avoided, and discover new strength. In the process we'll allow, acknowledge, own and honor the pain we carry for all that is hurting and angry and unhealthy in our world. By daring to experience our grief, we can encounter a new source of moral intelligence and compassion. We'll begin to discover the immensity of our heart-mind. What had isolated us in private anguish now opens outward and delivers us into the wider reaches of what Thich Nhat Hanh has called "inter-being."
In this module, you'll:
Examine what we and our country lost in 2016
Bravely face the dark potentials of our ecological predicament
Notice the pervasive strategies of denial and avoidance that surround us and rob our authentic power
Recognize how you're affected by our collective attack of anxiety and anger
Explore how the five stages of grief are being enacted all around you, and find your way to the amazing dynamic energy of true acceptance
Discover the powerful humble work you can do, expressing the higher wisdom of the bodhisattva
Awaken your natural ability to be strengthened and empowered rather than drained by empathy and grief
Module 3: The Alchemy Where Grief Becomes Inspiration
Healthy grieving weeps for a time, intensely, both alone and in community. And then there comes an end to the grieving period, and life goes on. The life force rises, and qualities like faith, hope and charity are called into play. In this session we'll engage the alchemy through which our shock, grief and loss can be metabolized and transmuted into deep trust and love of the wild processes of life and death, darkness and light, loss and renewal. We'll begin to trust what is, and magnify the irrepressible love and life that are our deepest nature.
In this module, you'll:
Experience the grieving process among a community of sisters and brothers — and then emerge, purified and wise
Awaken to the life energy that is powering you — the raw impulse that always wants to keep living and evolving, no matter what
Conduct that energy so it can manifest as resilience, humor, determination, sass, spunk and playfulness
Know your own True North to be love, not reactivity; health, not disease; wholeness, not fragmentation, integrity, not corruption
Discover that the deeper your losses, the more defiantly unreasonable your happiness can be
Become the health of the body politic — both its immune system and its healthy vibrant life force
Module 4: The Anatomy of an Intervention
We are each participants in the patterns of our world, including its dysfunctions. For it to change, each of us must change. If we recognize our current crises deeply, perhaps we can "hit bottom" and begin something truly new. The process of addiction recovery is a useful metaphor. It often begins with an intervention. Family and friends sit the patient down and help him or her recognize that things must change — now. With real recognition, plus support, a former addict can start a new life, calling on a higher power to partner with their personal choice. Instead of letting bad news torment and upset us, turning us into agents of that reactive energy, we can make a radically different choice. In this session we'll embrace this recognition and find our "Yes" to the profound wholeness that can reshape our lives and our world.
In this module, you'll:
Allow your shock to function as a spiritual initiation
Grasp the meaning of current events as a "calling" — a conscription by the higher power of the heart
Discover that the practice of wholeness is the practice of recognizing the ongoing tendency toward reaction and contraction
Find a genuine "Yes" to being alive in this moment, recognizing that in a time of fragmentation, reaction and corruption, it is truly revolutionary to choose wholeness, health and integrity
Open to the possibility of standing in wholeness as a magnetic call to others, recognizing citizenship as a sacred calling
See the opportunity to renounce your identity as a soft and entitled consumer in favor of being an aspiring citizen of a new republic of the heart
Module 5: Joining the Integral Revolution
The last thing we need is more antagonism, violence, or the disruption of civil order, and yet this is an unmistakably revolutionary time, one that calls for our participation. The pace of evolution has never been steady. The fossil record shows long periods of stability punctuated by times when the whole ecology suddenly transforms. Those periods must have been wild, revolutionary transitions. The old structures became unstable, and creatures were transfigured as they tried out new ways of being. In our time, pressures for such truly revolutionary changes are building in consciousness, culture and society. In this session we'll discover how we can participate consciously in an entirely benign integral revolution of the being — following the examples of Gautama, Socrates and Jesus.
In this module, you'll:
Recognize the revolutionary struggle in your own heart between the tendencies toward contraction, fragmentation and corruption on one hand, and the impulse toward expansion, wholeness and integrity on the other
Understand how that same dynamic is visible in every relationship, family, group, organization, community, faction, ethnic group, religion, party, state and nation
Awaken to the kinds of transformation that you can participate in spiritually
Awaken to the nature of an integral, or spiritual revolution, and discover the practical steps you can take to practice it every day
Clarify the critical shifts in your attitude and way of being that will enable you to renew and purify your intention many times each day
Learn about the original teaching of Jesus on kenosis, or becoming empty
Be inspired by the recognition that our truest spiritual intention is ultimately revolutionary, open-ended and lifelong
Module 6: Striding Deeper Into the World
Sustainable activism deepens, connects and sustains the soul of the activist. As we transcend our exclusive focus on ourselves, we need not abandon ourselves. In fact, we have to "put our own oxygen mask on first." Thus, as we stride deeper into the world, we must drop deeper into our connection with our source of peace and inspiration, and with each other. This requires relating very skillfully to political news and turning our activism into an inspiring spiritual practice. In this session, we'll unpack the lived experience of making that a reality in our lives.
In this module, you'll:
Discover how to build the inner muscles that enable you to be nourished by the outer work
Find the peace to accept that our world has changed, and that the rest of our lives will be a marathon,which requires a very different orientation than a sprint
Be inspired by a practical understanding of the implications of the Bodhisattva Vow so that it guides wise choices that balance self-care, relationships and care for the world
Find out how to penetrate the common false ways of seeing current events that hemorrhage your energy
Understand how to relate to bodacious "impossible" goals so that they're a source of ongoing inspiration rather than discouragement while you live in the gap
Explore how to engage the three essential domains of sacred activism
Understand how to see through the surfaces of events with a "spiritual X-ray vision" that allows you to take strong positions without putting people out of your heart
Module 7: Becoming True Friends — to Ourselves, Each Other & Our World
An integral revolution is a revolution of love, under the guidance of our deepest heart intelligence. And that radiates from a sweet spot in our being. It is the place where two dimensions of our being intersect: (1) the uplift of our humble reverent devotion to all that is sacred, and (2) our grounded practical care, compassion and courage on behalf of all our relations. Then we can show up with our friends in ways that are truly vulnerable and also spiritually fragrant. We can reduce their loneliness and bolster everything that's best in them. In this module, we'll locate and exercise the practice of such true friendship.
In this module, you'll:
Understand how to take strength from the fact that you need others, and they need you
Explore how to forgive and embrace the flawed humanity of your friends, family and self while still challenging yourself and those you love to be your best selves
Consider how integral practice ultimately goes beyond mere "self-help" into "each-other-help"
Discover how to grow into a capacity for deeper friendship
Find your way into shared activism with heart friends
Examine the five key principles of evolutionary dialogue
Find your way to the gate of a new republic of the heart …
Author
Terry Patten is the founder of Bay Area Integral and a key voice in integral evolutionary spirituality, culture, leadership and activism. He co-developed Integral Life Practice with Ken Wilber and a core team at Integral Institute and was the senior writer and co-author of the book Integral Life Practice: A 21st-Century Blueprint for Physical Health, Emotional Balance, Mental Clarity, and Spiritual Awakening. He hosts the acclaimed online teleseminar series, Beyond Awakening, where he has engaged leading-edge conversations with many of the world's most renowned thinkers and teachers. He speaks, consults and coaches on four continents and via the web.
Terry Patten – Awakening Your Revolutionary Heart