Description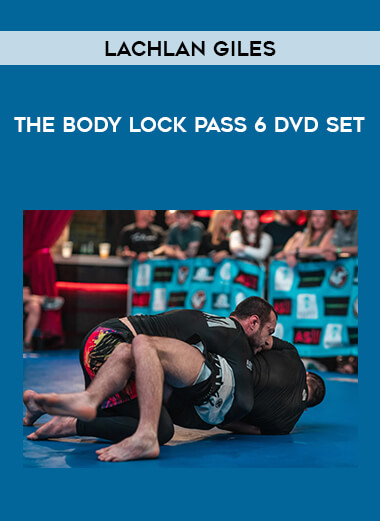 The Body Lock Pass 6 DVD Set by Lachlan Giles
Salepage : The Body Lock Pass 6 DVD Set by Lachlan Giles
Archive : The Body Lock Pass 6 DVD Set by Lachlan Giles
Course Download Size :
Lockdown your next opponent and smash your way through the guard with
one of Australia's best black belts and coaches, Lachlan Giles's
six-volume body lock encyclopedia. Learn what makes the body lock one of
jiu-jitsu's most important passes from one of the top no-gi grapplers
on Earth. With step-by-step breakdowns, concepts and principles,
narrated footage of live sparring with body locks, and combinations for
any possibility, this is a complete system that shows every detail you
need to win.
Lachlan Giles is one of the most sought after instructors,
thanks to his teaching style. He's a thorough, detail-oriented
instructor who is responsible for teaching such grappling talents as
Craig Jones.
The body lock is one of the most powerful passing positions in
grappling. By locking up your opponent, you can pin and trap their hips,
letting you systematically work your way through their guard while you
really limit their options. Now you can learn how to pin, pressure, and
pass through any guard with this full-service instructional system.
Every entry, pass, and counter is here for you across six volumes based
all around how you can add this one attack to your arsenal and see huge
results.
Lachlan breaks the body lock down into its main parts, then
focuses on each part in turn so that you can build the pass to be
bulletproof. Secure the lock, clear the knee line, and finish your pass
with surgical precision, and learn what to do against all of the most
common counters and defenses. With everything from fundamental concepts
to technical sequences that will pass through even the most stubborn
guards, there is tons here for all levels of grappler.
From the troublesome closed guard, use your body lock
principles to open the guard with the Sao Paulo guard break, a way to
pressure and pop open one of BJJ's toughest positions. With variations
around how to posture, you can find the most comfortable way to isolate
and separate the legs with this leverage-based guard break. From there,
blend back into your body locking passes, a system that can smash your
way to dominant positions.
With six volumes of technique and narrated rolling, this mega
release is one of the most complete guard passing instructionals on the
market and the most expansive ever on the body lock pressure pass. Learn
from one of BJJ's most sought after coaches, with Australia's Lachlan
Giles of Absolute MMA, as he shows one of his favorite ways to attack
the guard. Add this pressure passing tool to your arsenal and find
yourself passing the guard with precision in no time.
The Body Lock Pass 6 DVD Set by Lachlan Giles