Description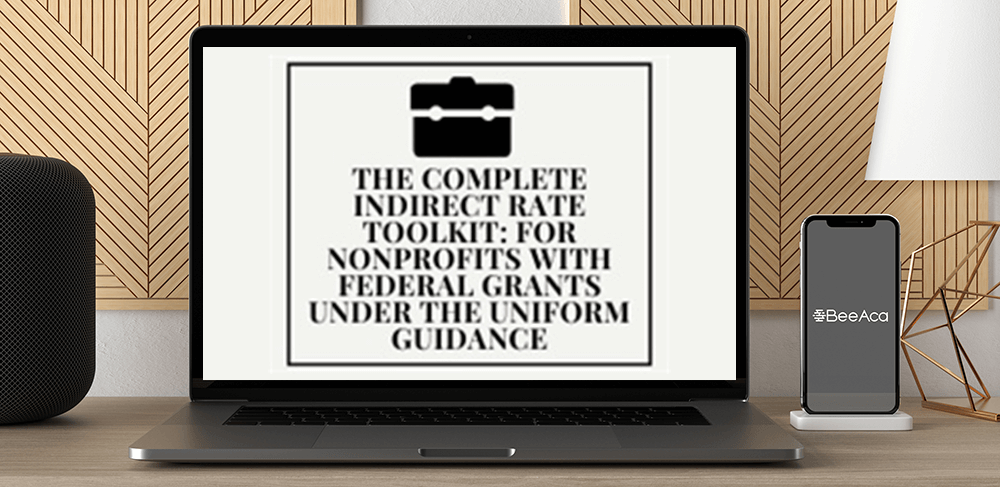 The Complete Indirect Rate Toolkit: For Nonprofits with Federal Grants under the Uniform Guidance
Salepage : The Complete Indirect Rate Toolkit: For Nonprofits with Federal Grants under the Uniform Guidance
Archive : The Complete Indirect Rate Toolkit: For Nonprofits with Federal Grants under the Uniform Guidance
Course Download Size :
Everything you need to know about indirect rates for nonprofits is in this 4 hour course.  We go through every important aspect about indirect rates and allocations under the Uniform Guidance (UG).  Specifically, we discuss the changes and new options that the UG has on indirects.  Included is a practical exercise to build an indirect rate.  We finish the session with the new 55 cost principles as to what is allowable or unallowable.
Update:
The original 4 hr session will follow this update to the UG which has minimal impact on indirect rates.  The OMB Update revising the UG occurred on August 13, 2020 to go into effect on November 12, 2020.
The content in the following original session starts on slide 6, 7, 8 and continues on slide 14 with no changes to the end of the 4 hr session.  Slides 9 through 13 in the original session have been removed and this update on the UG impacting indirect rates replaces those slides.
Basic Course Information
Learning Objectives
Impact of the UG on indirect rates and allocations for preparing a nonprofit indirect cost rate proposal

List where the agency indirect rate templates are location

Demonstrate how to build an indirect cost rate proposal

Ascertain an understanding of the 55 cost principles
Major Subjects
The indirect rate toolkit provides everything you will need in understanding and preparing nonprofit rates

You will learn about the new 10% de minimus indirect rate, direct cost allocations, definitions of direct and indirect cost, as well as extending negotiated indirect rates

We cover all of the significant cost principles, new principles, changes within the cost principles, categorizing them by the most important and commonly used in "every day" grant accounting

Together we prepare an indirect cost rate proposal for a real nonprofit

We will discuss transition issues between direct charging occupancy and the impact if the organization decides to establish a negotiated indirect rate
Mr. Calabrese has hands-on experience with the Uniform Guidance for Federal grants recipients: nonprofits, universities, hospitals, and state/local/tribal units of governments. His skill-set involves: grant cost accounting, sub-recipient monitoring, preparation of over (100) indirect rates / NICRA for several Federal agencies, developed policies and procedures, medical management systems invoicing to state Medicaid agencies and toolkit for unit cost rates for Ryan White HIV AIDS HRSA awards. Paul has developed grant and financial statement dashboards. He has performed out-sourced CFO duties, annual budgets, cash flow projections, grant draws and budget monitoring.
The Complete Indirect Rate Toolkit: For Nonprofits with Federal Grants under the Uniform Guidance