Description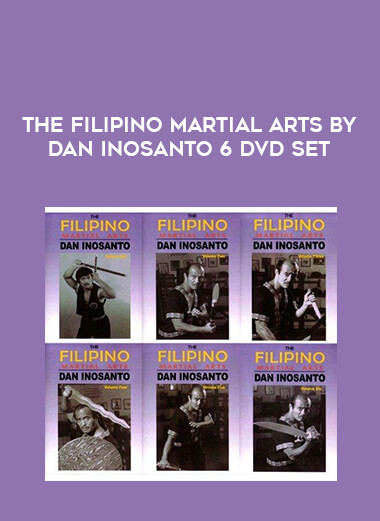 The Filipino Martial Arts by Dan Inosanto 6 DVD Set
Salepage : The Filipino Martial Arts by Dan Inosanto 6 DVD Set
Archive : The Filipino Martial Arts by Dan Inosanto 6 DVD Set
Course Download Size :
Finally an instructional series by Dan Inosanto, featuring such notables as Jeff imada, Ted Lucaylucay, Steve Nakamura, Paul Inosanto, and many others. This series of instructional videos reveal the wealth of knowledge held by the world renowned Dan Inosanto.
DVD 1: An overview, this DVD gives the viewer glimpses of every aspect of Dan's system. Included art: single stick, double stick, empty hands, knife fighting, advanced balisong fighting, disarms, breaking, fighting techniques, ancient weapons, the whip, and much more.
DVD 2: Introduction to the ancient weaponry of the Filipino martial arts, aspects of the single stick, including grips, striking angles and disarms. Sinawali with the double stick, footwork, applications with weapons, empty hands and much more.
DVD 3: Features energy drills with both sticks and empty hands, coordination drills flow and much more.
DVD 4: Features long and short stick training, counters, snaking and stripping disarms, solo training, close quarters combat, and much more.
DVD 5: Features long and short stick disarms, angles of attack and defense training and much more.
DVD 6: Features Dan working out the fighting man dummy, demonstrating disarms, Sinawali, the Tabak Toyok and empty hand techniques. Also included are sections on full contact training and Bruce Lee's 1 & 3 inch punch.
About the instructor:
Dan Inosanto is one of the world's leading authorities on the Filipino martial arts. He has studied with the likes of: Pedro Apilado, Angel Cabels, Regino Ellustrimo, Leo Giron, John LaCoste, Ben Largusa, Jack Santos, Sam Tendencia, Floro Villabrille, to name a few. In addition, he was the late Bruce Lee's closest friend and the individual chose by him to teach, develop, and carry on Jeet Kune Do – the way of the intercepting fist.
The Filipino Martial Arts by Dan Inosanto 6 DVD Set