Description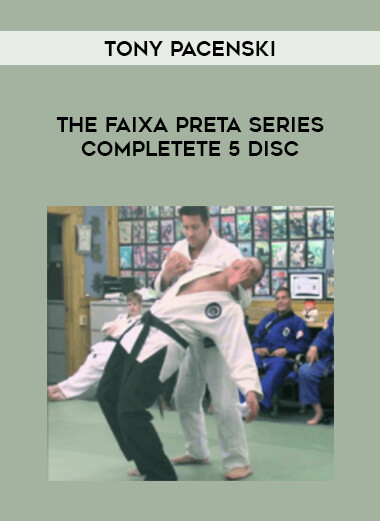 Tony Pacenski – The Faixa Preta Series Completete 5 Disc
Salepage : Tony Pacenski – The Faixa Preta Series Completete 5 Disc
Archive : Tony Pacenski – The Faixa Preta Series Completete 5 Disc
Course Download Size : 23.195 GB
FAIXA PRETA DVD CURRICULUMS BJJ PACKAGE Tony Pacenski
FAIXA PRETA SERIES Vol. 1 – Brazilian Jiu-Jitsu Partner Drills – 1 Disc
FAIXA PRETA SERIES Vol. II – The Hook Sweep – 2 Disc
The FAIXA PRETA SERIES Vol. III- The 50/50 Guard – 1 Disc
GI TECHNIQUES – 1 Disc BJJ SEMINAR SERIES Vol. 1 Intensive BJJ Seminar in PHILADELPHIA – High Percentage Guard Passing and Escapes
GI TECHNIQUES – 1 Disc BJJ SEMINAR SERIES Vol. 2 Intensive BJJ Seminar in PHILADELPHIA – The Sao Paulo Approach to Passing the Guard
Hello, Jiu-Jitsu enthusiasts and friends.
My name is "Little" Tony Pacenski, and I am a Black Belt in Brazilian Jiu Jitsu (FAIXA PRETA). I can tell you that I have a lot of tactics to share with you after spending 15 years learning the art of Brazilian Jiu Jitsu and graduating to Black Belt in 2006 under Professor Rodrigo Medeiros of the Carlson Gracie Team and co-founder of the BJJ Revolution Team.
Since creating my instructional DVDs, I've had one goal in mind: to teach certain aspects of Brazilian Jiu-Jitsu that anyone, regardless of skill, could comprehend and use.
The FAIXA PRETA SERIES, also known as the "Black Belt Series," has accomplished this by reaching students in Japan, Canada, Australia, the United States, France, Italy, Germany, England, Eastern European countries, and even South Africa!
SOULFIGHT.NET has put together a bundle of all my curriculums found in the FAIXA PRETA SERIES and THE BJJ SEMINAR SERIES in response to worldwide requests from friends and Jiu-Jitsu aficionados like you. For the first time, all of the instructional DVDs are available as a complete package! "Little" Tony Pacenski M.A. Ed. Curriculum & Instruction 1st Degree Brazilian Jiu-Jitsu Black BeltBJJ Revolution Team- Redondo Beach
Tony Pacenski – The Faixa Preta Series Completete 5 Disc