Description
Various Authors – Change Phenomena 2012: Hypnotism Conference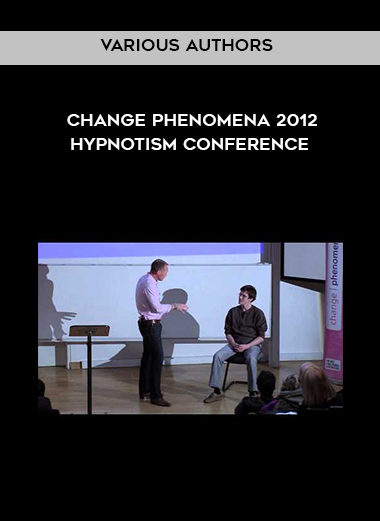 Salepage : Various Authors – Change Phenomena 2012: Hypnotism Conference
The change phenomena hypnotism conference features a variety of experienced hypnotists and hypnotherapists lecturing on their current thinking, approaches and techniques. Featuring a number of remarkable live demonstrations and a panel session with questions from the audience.
Barry Thain: Clinical Hypnotism in Practice
Gary Turner: Psychological Skills Training in Sport
Adam Eason: Practical Self-hypnosis
Kev Sheldrake: The Subjective Experience of Hypnosis
Harry Lucas: Hypnosis: A Mystery Performer's Perspective
Anthony Jacquin: Panel Session
Clinical hypnotist, Barry Thain, shares his thoughts on therapy and what he thinks might be the only new thing discovered in hypnotism in the last 50 years. With 13 world titles in various martial arts, Gary Turner shares techniques to gain the edge in sports performance. Best-selling author, Adam Eason, provides practical instruction on self-hypnosis and demonstrates with pain control. Kev Sheldrake discusses the science regarding the subjective experience of hypnosis and describes the Automatic Imagination Model. Mystery performer, Harry Lucas, entertains while sharing some of his most unusual discoveries about hypnosis.
Whether you are a hypnotherapist who wishes to utilise the phenomena of hypnosis, a performer who has developed an interest in change, a hypno-hobbyist looking to develop your skills or a hypno-theorist seeking greater understanding, change phenomena has something for you.
Customer Review
Grant Parkis wrote:
Just got through watching, rather being educated by the change phenomena 2012 conference.Although being a newcomer to the hypnosis/change work arena, and having accumulated thousands of dollars of information/education from both sides of the Atlantic Ocean I have to say hands down, no questions about it, I got my answers and guidance from watching the CP 2012.

When I begin learning about hypnosis, I felt something huge was missing and that prevented me from being able to wrap my mind around the entire idea.  I had bits and pieces that fit but nothing to solidify them all into a congruent belief,

After hearing the panel speak on the CP 2012 conference I got more answers to questions that I did not even know I yet had.  It was immensely informative to hypnotherapy, vastly different then what I believed change work to be and implement it, and tidbits that can be implemented in stage and street hypnosis.

I can say beyond a shadow of a doubt that head hacking has solidified hypnosis for me into a believable workable theory, and the CP conferences blow the lid off that theory and push the bounds to get me thinking and pushing myself.

Looking forward to more…

Now back to watch it again…so much to digest and implement.
Various Authors – Change Phenomena 2012 – Hypnotism Conference